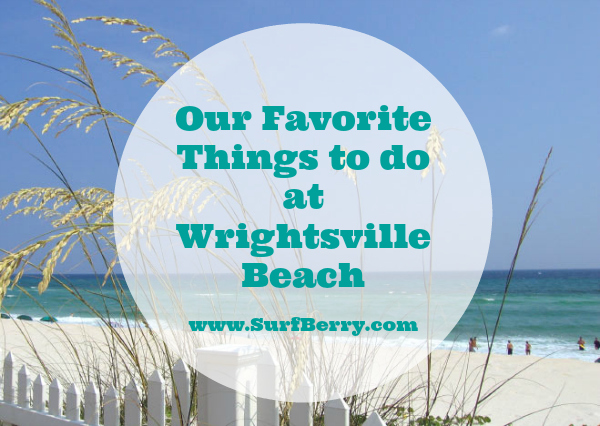 Summer is in full swing here in Wrightsville Beach, North Carolina, and we are loving all of our local, and out-of-town, visitors who have been stopping by SurfBerry recently. We hope you are staying hydrated and enjoying the Summer fun as much as we are! Today we wanted to share with your our favorite things to do at Wrightsville Beach – there's so much it was difficult to narrow our list down, but these 4 things are at the top of our list!
Our Favorite Things to do at Wrightsville Beach: Day at the beach
We happen to think that Wrightsville Beach is the best and most beautiful beach in North Carolina. Since we call Wrightsville Beach our home, our opinion may be just a bit biased! There's nothing like enjoying a day at the beach – especially in the Summer, when the water is warm and the sun is hot.
Our Favorite Things to do at Wrightsville Beach: Spend time on the water
Where there's a beach, there's water! And we have lots of it here at Wrightsville Beach. In fact, SurfBerry is just a few blocks away from the Intracoastal Waterway. Whether you want to have fun with a motorized adventure, like jet skiing and fishing charters, or work your body with surfing lesson, a stand-up paddle board (SUP) adventure, or kayaking, we can provide you with rentals to enjoy all of these water sports. You can click here to book your rentals now.
Our Favorite Things to do at Wrightsville Beach: Summer Concert Series
SurfBerry is a proud sponsor of the WECT Sounds of Summer Concert in the Park series held at Wrightsville Beach Park. We're serving up our delcious Hawaiian Shave Ice at the concerts and we'd love for you to stop by and see us! You can get the concert schedule by clicking here. 
Our Favorite Things to do at Wrightsville Beach: Eat a healthy treat 
From Frozen Yogurt with no artificial sweeteners, to an organic cold-pressed green juice, our healthy menu options at SurfBerry are the perfect way to cool down after a hot day at Wrightsville Beach. It's difficult to say what menu item is our favorite – we love them all! Stop on by and see if you can pick a favorite, and then share it here with us in the comments or on our Facebook page!
We'd love to hear from you! What's your favorite thing to do at Wrightsville Beach?