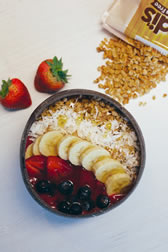 Acai berries hail from the forests of the Amazon in Brazil and are smaller than a grape. Don't let its small size fool you – this berry packs a nutritional punch! Pronounced "ah-sigh-ee," acai berries are hailed as a super food due to their dense concentration of antioxidants. Studies show that the antioxidant properties of the acai berry exceed that of the blueberry and blackberry and also boast amino acids and essential fatty acids – a perfect dietary supplement to any lifestyle. Packed with flavonoids, anthocyanin and amino acids, acai berries also work to lessen the damaging effects of harmful byproducts (free radicals) that are absorbed by our bodies, reducing your risk of developing disease, cancer, and stress-related illnesses. We absolutely love this healthy stuff and can't get enough of its flavor!
Our acai bowls are the best around! Made of organic frozen and pureed acai berries, RO water/almond milk, and banana, creating a treat that is naturally sweet, nutritious, and refreshing. Choose from a variety of toppings, including fiber-filled hemp granola, plant protein and fruit.
NO ice, added sugar, artificial preservatives, or any other fillers in our bowls – just sweet, natural goodness!