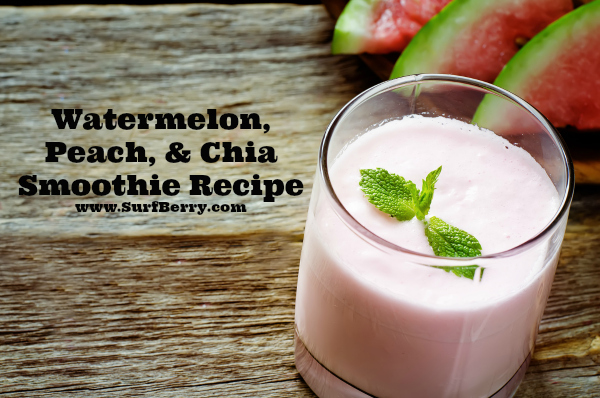 Looking for a refreshing smoothie to help keep you hydrated this Summer? Look no further – our Watermelon, Peach, and Chia Smoothie Recipe is just what you need to cool down. Light, refreshing, with just the right amount of sweetness, this smoothie recipe is one the whole family can enjoy!
3 Key Ingredients that make this Watermelon, Peach, and Chia Smoothie Recipe so special:
Watermelon: This hydrating fruit is not only super tasty, it's really great for your body, too! Did you know that watermelon is 92% water and packs more of the cancer-fighting antioxidant lycopene than any other fresh fruit or vegetable? (Source)
Peach: There's nothing quite like a ripe, juicy peach to symbolize the freshness of Summer! These round beauties also pack a boatload of vitamins, like A and C, adding to the nutritional value of this smoothie.
Chia Seeds: One of our favorite superfoods is Chia Seeds! Chia seeds are packed with Omega 3's, protein, and fiber. It's the perfect combination to help stabilize your blood sugar and give you a boost of energy.
Watermelon, Peach, and Chia Smoothie Recipe
Serves 1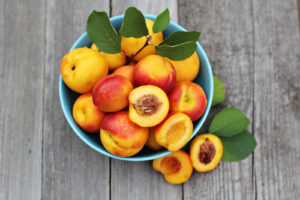 Prep time: 5 minutes.
Ingredients:
1 cup milk of choice (I prefer almond or coconut)
1 cup fresh watermelon, cubed
1/2 fresh peach
3 Tablespoons chia seeds
1 teaspoon unrefined coconut oil
4-5 ice cubes
Directions:
Wash and cut the watermelon and peach.
Place all ingredients into a high-speed blender (like a Vitamix or Ninja) and process until smooth, about 30 seconds.
Pour into a glass and enjoy!
Chef's notes: the chia seeds will thicken the smoothie up to a pudding like consistency in about 7-10 minutes after the smoothie is made. If you like a thinner smoothie, drink it before it starts to thicken.
Fresh Summer peaches and watermelon can most likely be found at your local farmers market this time of year. When you can purchase your ingredients locally, not only are they packed with more flavor, but more nutrition too!
Not into making smoothies yourself? We have plenty of delicious smoothies on our menu! Next time your at Wrightsville Beach, stop on by SurfBerry and give one of them a try.
Give the Watermelon, Peach, and Chia Smoothie recipe a try this week and let us know how you like it in the comments below!