Our mission is to bring the energizing, healing powers of super foods and organic juicing to Wrightsville Beach, while educating people on the life enhancing qualities of healthier eating and active living. It's all about LIFESTYLE (Vitamin L); we believe the cleaner you eat, the more energy you will have, and then more fun activities you can enjoy. Recent studies show just how impactful Vitamin L can be to your overall health, including a decreased risk for degenerative diseases like heart disease and diabetes in both men and women. We'd love for you to come and get a big does of vitamin L at SurfBerry and learn why a healthy lifestyle is the best way to live!
Get a Big Dose of Vitamin L at SurfBerry: 3 Simple Ways to Increase Your Vitamin L
1). Eat clean.
Eating foods rich in vitamins and nutrients is the way to go when it comes to good health! This means lots a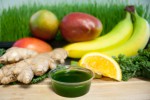 nd lots of fruits and vegetables, whole grains, healthy fats (like seeds and nuts), and lean proteins – whole foods that aren't found in boxes or bags. Aim for 9-13 servings of fresh, organic fruits and vegetables daily. Green smoothies are a great way to get a lot of those servings in. When you limit the processed foods and incorporate more whole foods into your diet, your body will thrive and you'll have more energy to do all the activities you love. Check out some of our past blog posts for easy ways to get clean foods into your body: 5 Superfoods You Need In Your Diet & Health Benefits of Leafy Greens.
2). Spend quality time with your loved ones.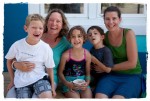 They say laughter is the best medicine, and here at SurfBerry we couldn't agree more. Spending quality time with yourself and your loved ones is one of the most important things you can do for your health, because it helps you de-stress and focus on what's really important in life. Our favorite way to do that is by taking a technology detox 1 day each week. Shut down your phone, stay off the computer, and do something fun with your loved ones. When the weather is nice the best choice is to unwind at Wrightsville Beach of course! (Make sure you stop by to see us to grab a healthy snack!) You'll return back to work and your daily obligations feeling refreshed and renewed.
3). Get outside and be active.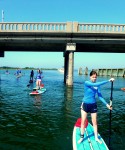 Moving your body is another great way to reduce stress and increase your happiness. Wrightsville Beach is the water sports capital of the East Coast – surfing, fishing, paddleboarding, running, kayaking, walking, swimming are just some of the many amazing things to do in Wrightsville Beach, North Carolina. We offer a wide array of beach rentals – including paddle board and kayak rentals – and fun activities – like surfing lessons and paddle board excursions. Anything you need to enjoy some quality time by yourself or with your loved ones you can find here at SurfBerry! Warning – instant happiness and a stress-free day are often side effects 🙂
We'd love to hear from you! What's your favorite way to increase your Vitamin L?