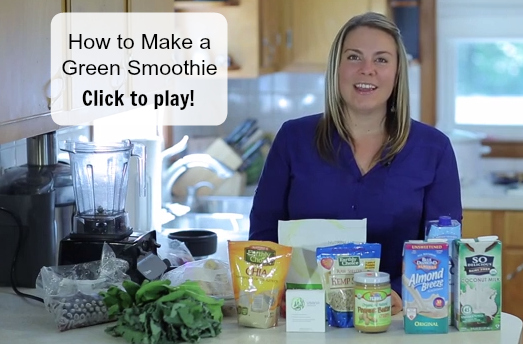 One of the most common questions I'm asked as a health coach is, "What is best thing I can do to improve my health?" My response is always two things: drink more water and have either a green smoothie or a green juice every day. My motto is "A green drink a day keeps the doctor away!" Today I'm going to share with you how to make a green smoothie, along with some tips and tricks for the best ways to make a green smoothie.
How to Make a Green Smoothie: Step-by-Step
The first step to making a green smoothie is to wash and prepare all of your ingredients. Green smoothies consist of 6 main ingredients:
Greens! Of the dark leafy variety like spinach and kale. Aim for 2-3 cups (1 large handful = 1 cup)
Other veggies. Cucumbers are great for hydration, beets and carrots are great for adding a bit of sweetness. It's best to peel your vegetables to remove the skins and any pesticides.
Fruit. 1 small piece or 1 cup for a touch of sweetness. 
Liquid. 1-2 cups depending on how thick you like your smoothie. Filtered water, unsweetened nut milks, and coconut water are all great options.
Protein Source. Aim for 10-15 grams of protein to stabilize your blood sugar and to make your green smoothie a complete meal. Chia seeds, flax seeds, hemp seeds, 1-2 tablespoons of raw nuts, or a clean source or protein powder are all great options.
Healthy Fat. Just a touch of healthy fat like 1/4 of an avocado, 1/2 teaspoon of coconut oil, or 1 tablespoon of nut butter will help your body properly absorb the fat soluble vitamins from the veggies and fruit in your smoothie.
You can also add any superfoods to your smoothie like goji berries, cacao, or spirulina for an added nutrient boost. You can also add a few ice cubes to chill your smoothie as well.
After you gather all of your ingredients, simply place them in your high-speed blender and blend until smooth. If you don't have a high speed blender, you'll need to chop your veggies and fruit into bite sized pieces for better blending results.
If you'd like to see how I make a green smoothie, step-by-step, simply click on the photo above and watch my short video.
How to Make a Green Smoothie: Tips and Tricks
If you have a sensitive digestive system (i.e. bloating, gas, etc.), it's best not to have a green smoothie on an empty stomach. Green smoothie contains the whole produce and all of the fiber can be difficult for some folks to digest on an empty stomach first thing in the morning. I tend to have mine for lunch, or as an afternoon snack, after I've had some food in my stomach.
Green smoothies can be made in just a matter of minutes, making them a great meal-on-the-go. If making your smoothie for later (i.e. making it before work in the morning to have for lunch), make sure to fill it to the top of an airtight container to prevent any air from getting in. Air creates oxidation, which lessens the vitamin and nutrient content. It is best served right away, but it can store for up to 24 hours in an airtight container in the refrigerator. I use pint mason jars with reusable lids to store my smoothies. 
New to green smoothies? Greens like spinach and rainbow or swiss chard are milder than kale and collards. I recommend to my clients to start off with the milder greens because most times you can't even taste them in the smoothie – but they are there to give you a big nutrition punch.
Watching your waistline? Limit the fruit and added sweeteners. Using mostly vegetables with a small apple, or a cup of frozen berries, has a smaller glycemic impact on the body than higher sugar fruits like grapes and pineapple. If you like a creamy smoothie, try adding a frozen banana for a super smooth texture.
GET CREATIVE AND HAVE FUN! Just play around with ingredients and experiment to your taste buds – you never know what ingredients you may end up liking.
Be sure to stop by SurfBerry soon and try one of green Superfood Smoothies, like Killer Kale, Nosara, Cali, or Karma. They are delicious and nutritious – the best of both worlds!
Cheers!