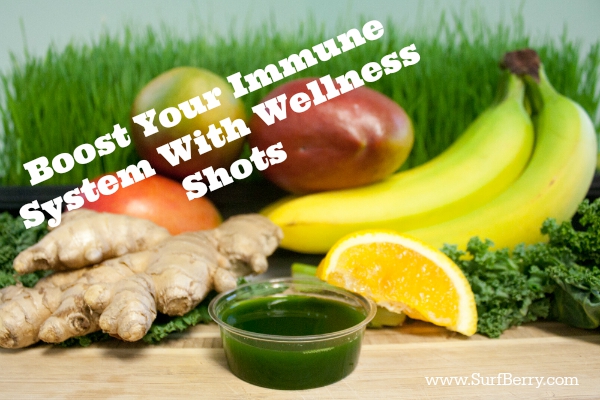 Back to school season is here and that means that cold and flu season is not far behind it! We shared some of our favorite healthy back to school snacks and dinner recipes on our last blog post, and those should help keep you and your family healthy all year long. But in case the sniffles start to arise in your household, we wanted to share another tip with you.  A great way to boost your immune system is with our wellness shots, and we'll share why below.
Boost Your Immune System With Wellness Shots: 3 of our Favorite Wellness Shots
Ginger: Ginger is so good for your when you are looking to boost your immune system and fight off germs. Not only does it help fight off inflammation, which is associated with everything from the common cold to more serious degenerative diseases like heart disease, ginger also helps kill viral and bacterial infections. Plus, it helps detox the liver, and it makes for the perfect natural remedy to sooth an upset stomach and ease digestion troubles. Ginger is a great food and naturally remedy to have on hand as we get to the colder months when germs are more prevalent.
Wheatgrass: We press our wheatgrass shots fresh to order, from locally and organically grown wheatgrass. This green superfood is loaded with chlorophyll, which is found in leafy green vegetables, plants and vegetation, and will give you an instant energy boost. Plus, it helps remove toxins from your body, so you can get rid of those cold and flu germs quickly. You can learn more about wheat grass here.
Aloe Vera: Aloe is not just for sunburns! (Although it really does help those sunburns, doesn't it?!) Aloe is packed with vitamins and nutrients that help fight off inflammation and boost the immune system; it also helps the body properly absorb vitamins and nutrients so you can get the most benefits from eating healthy foods. "It's packed with vitamins, including B, C, and vitamin E, as well as folic acid, which fortify the body's immune system." (Source) 
If you're in the Wrightsville Beach area, stop on by and try our immune boosting wellness shots! We look forward to seeing you!