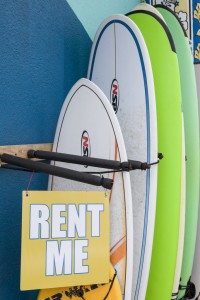 At SurfBerry, we don't just do froyo. We are a one-stop shop for the ultimate summer fun experience. Did you know that in addition to delicious frozen yogurt, nutritious smoothies, organic juice and a variety of other treats and beverages, SurfBerry provides rental equipment for just about all of your favorite beach actviities? Whether you want to boogie board along the shore of Wrightsville Beach, kayak through the Intracoastal Waterway, or take the whole family for a bicycle ride around "The Loop," SurfBerry can hook you up with the equipment you need.
Boards
We provide quality surfboards for beginners and experienced surfers alike. Whether you want a shortboard, longboard, boogie board or skim board – we can rent you something that is sure to please. Not sure what kind of board you should rent? No problem. Let us know your experience level and we can likely recommend something that will work for you.
Get the details on our surfboard rentals by clicking here.
Paddleboards
Stand Up Paddleboarding (aka "SUP") is all the rage right now, and if you've ever tried it, you know why. SUP combines a low impact workout with the fun and excitement of being on the water and taking in beautiful scenery. (Sure beats going to the gym!) We offer paddleboards for rent on an hourly, daily and weekly basis. We also offer SUP fitness classes and guided SUP excursions to take your SUP experience to the next level – but be warned, these groups fill up FAST so book early! Want a private SUP lesson? We can do that, too!
View our SUP rental rates.

Kayaks
If you want to truly enjoy the quieter, hidden parts of Wrightsville Beach, the best way to do so it by kayak. Nature lovers will get a kick out of spotting different kinds of water fowl, turtles, crab and other native creatures while they explore the nearby islands, marshes and inlets. Be sure to bring your camera along to capture some WB wildlife!
Book your kayak rental here.
Bicycles
Wrightsville Beach is a very pedestrian- and bike-friendly town. Let us help you enjoy our beloved island like so many of the locals do – on two wheels! Every bike rental comes with a helmet, combination lock, and of course our friendly advice on the best places to ride.
Beach chairs, umbrellas and more
We've all been there – you're in a rush to pack up for the beach and once you arrive you realize you forgot the umbrella. Or chairs. Or cooler. But don't sweat it. SurfBerry has beach chairs, umbrellas, coolers, strollers, carts, and even games like Bocce Ball and Cornhole that you can rent. Simply put – we have just about anything you need for the perfect day at the beach.
Learn more about our beach rentals, activities, lessons and more by calling (910) 679-8027 or stop by at 222 Causeway Drive, Wrightsville Beach, NC.